Why? Thoughts on renewable energy and climate change.
Why develop CleanCarbon Energy and our process strategies (apart from the $20MM NRG COSIA Carbon XPRIZE award and positive NPV projects)?
The focus on CleanCarbon Energy is to develop technology to enable the conversion of carbon dioxide to value added products. The singular focus at CleanCarbon Energy is to make that happen. Not surprisingly this is more than enough work for our team. That being said we have received some questions related to the science behind climate change so I thought we could dedicate a blog post to the issue of why CleanCarbon Energy given conventional petroleum, coal and natural gas? Quite frankly we need to start now and move slowly but steady towards supplementing these with carbon balanced energy products to make up for the eventual depletion of these resources.
To make the blog interesting I will comment on what I think is a practical guide to climate change with the caveat that CleanCarbon Energy is a technology engineering team and not climate scientists. We are not climatologists. That being said a lot of the interesting science behind the issue is lost in the debate and the politics surrounding the issue that hopefully you can find this practical blog post informative.
Above all regardless of climate change balancing the carbon cycle makes sense from a renewable energy stand point. While the world is awash with inexpensive oil and gas right now it will not necessarily be there 50 years from now, let alone 100 years from now. The more renewable energy in the mix the longer we secure a stable supply of energy. There is an excellent graph from the US Energy Information Administration at https://www.eia.gov/forecasts/aeo/section_energyconsump.cfm: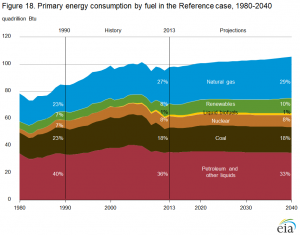 Another excellent diagram is the total estimated energy consumption in the United States in 2015, and how energy flowed from source to the final destination from the Lawrence Livermore National Laboratory and the Department of Energy.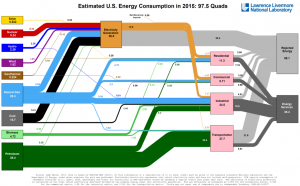 As you can see only 8% of our energy consumption is from renewable energy sources. One day in the future, be it 100 years or 1000 years we will run out of fossil carbon fuels. Wind and solar power require large surface footprints and are not necessarily applicable for every juristiction (no wind, snow, etc). Fuels like natural gas and gasoline are also very convenient – easy to store, transmit, non-toxic and high density (can easily store in a plane). If we could balance the carbon cycle we could guarantee future generations can enjoy the benefits of these energy sources forever. The goal of balancing the carbon cycle would be you use the fuel (gasoline in your car for instance) releasing CO2 into the atmosphere which is then converted back into gasoline via a carbon balanced process. This is a major goal of our technology development program.
So what about climate change?
It simply makes sense to balance the carbon cycle. At best we are wasting that carbon. At worst we are contributing to speeding up a build up of CO2 in the atmosphere which will accelerate global warming.
You can see that the carbon cycle currently is not balanced as shown on this graph. A cool link is http://www.esrl.noaa.gov/gmd/ccgg/trends/ ; here you can actually see the recorded atmospheric CO2 concentration for the past month. Note that it continues to increase. There is more carbon being put into the atmosphere then consumed by plants, the ocean, etc.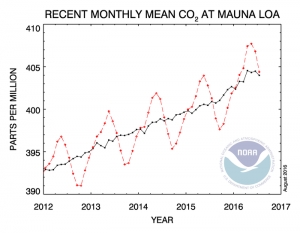 Before the Industrial Era atmospheric carbon dioxide concentration was 280ppm +/- 10ppm for several thousand years. (1) It has risen considerably since then reaching 367ppm in 1999. The rate of increase over the past century is unprecedented at least during the past 20,000 years. The present atmospheric CO2 increase is caused by anthropogenic emissions of CO2. About 75% of these emissions are due to fossil fuel burning (6.3+/- 0.4 PgC/year. To balance the carbon cycle would require a drop in fossil fuel burning from 5.3 PgC/year to 1.9PgC/year or a decrease of 64%. Modelling also shows that even if all GHG emissions were zero some degree of warming would still take place that the argument is made that a large scale technology for sequestering carbon from the atmosphere is required (2). At the same time the world derives many benefits from the burning of fossil fuels given they currently supply over 85 percent of the worlds energy needs (3).
A nice diagram of the carbon cycle from IPCC AR5 is: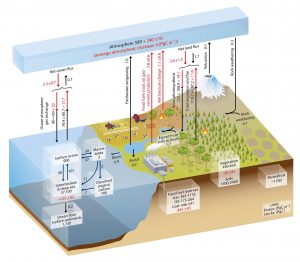 Yes climate and atmospheric CO2 concentrations have always been changing. The temperature has increased and decreased at various rates throughout the geologic history of the planet. Given the debate surrounding climate change I am always disappointed the Azolla Event rarely comes up. The Azolla Event in some ways is the best analog for climate change concerns. It is worth noting that geologically speaking (> 1 billion years) the Earth has had atmospheric carbon dioxide concentrations above 2000ppm associated with a "greenhouse Earth" state where it was hot enough for turtles and palm trees to proposer at the poles. For example 65 million years ago, a time made famous by the dinosaurs, there was no ice caps even in the Arctic. Where Team CleanCarbon is based in Alberta was basically a coastal forest with a massive sea splitting North America into two known as the Bearspaw Sea. The Azolla Event occurred approximately 49 millions years ago when blooms of the fresh water fern Azolla in a land locked Arctic Ocean sank to a stagnant sea floor and were incorporated into the sediment. Research concerning the geomagnetic reversal record allows the duration of the event to be estimated at 800,000 years (4). The event coincides precisely with a catastrophic decline in carbon dioxide levels, which fell from 3500 ppm in the early Eocene to 650 ppm during this event (5). The Azolla Event provides evidence in the relatively recent geological record where a "greenhouse Earth" had temperatures reduced with a corresponding drop in CO2. After the Azolla Event comes ice ages. The world  cools and eventually most of North America is covered with ice. Two interesting side notes – the Azolla Event predicts massive amounts of hydrocarbons trapped in the Arctic which is probably why we see companies continue to try to explore up there despite the harsh environment. More important to the CleanCarbon effort the Azolla Event offers evidence that biomass generation can be an effective option to sequester CO2.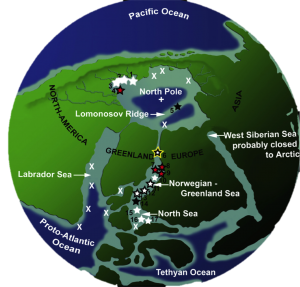 Arctic Circle Enclosed during the time of the Azolla Event (Barke, J., Burgh, J., Cittert, J., Collinson, M., Pearce, M., Bujak, J., Clausen, C. Speelman, E., Kempen, M., Reichart, G., Lotter, A. & Brinkhuis, H. (2012)  Coeval Eocene blooms of the freshwater fern Azolla in and around Arctic and Nordic seas.  Palaeogeography, palaeoclimatology, Palaeoecology 337, 108-119. )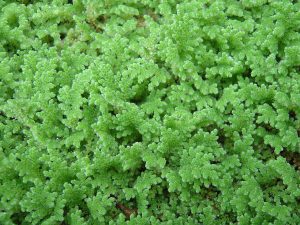 Photograph of Pacific mosquitofern (Azolla filiculoides) growing in a tub at the botanical gardens in Münster, Germany. This is the fern that some believe was responsible for the "Azolla Event"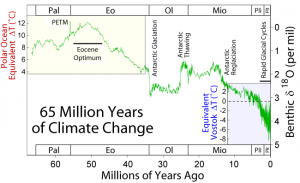 Global drop in average temperatures at the time of the Azolla Event. This figure was prepared by Robert A. Rohde from published and publicly available data and is incorporated into the Global Warming Art project.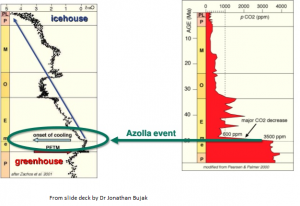 Nice slide deck from Dr. Jonathan Bujak using respective figures to show the onset of cooling matching up with the drop in atmospheric CO2 concentrations (The Azolla Event?)
The Last Glacial Maximum (LGM) was the last period in the Earth's climate history during the last glacial period when ice sheets were at their greatest extension. Growth of the ice sheets reached their maximum positions 24,500 BCE. You can see just how much ice covered North America based on geological logs at https://www.google.ca/search?q=Late+glacial+maximum&biw=1920&bih=971&source=lnms&tbm=isch&sa=X&ved=0ahUKEwjzlcX1oMrOAhWGWh4KHXo0AjYQ_AUIBigB#imgrc=mLFd4jSB8MMAEM%3A . A cool map is at https://en.wikipedia.org/wiki/Late_Glacial_Maximum#/media/File:Glacial_lakes.jpg ;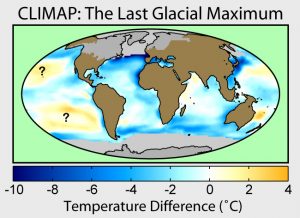 A map of sea surface temperature changes and glacial extent during the last glacial maximum according to the CLIMAP project. This image was prepared by Robert A. Rohde from published data and is part of the Global Warming Art project.

You can see even just 7,000 years ago (relatively nothing in geological time) icefields extended all the way to the great lakes. Obviously the world entered a warming period. One rather cool event was the breaking of an ice dam at Glacial Lake Missoula. The lake measured about 7,770 square kilometres (3,000 sq mi) and contained about 2,100 cubic kilometres (500 cu mi) of water, half the volume of Lake Michigan.[1] The Glacial Lake Missoula National Natural Landmark is located about 68 miles northwest of Missoula, Montana, at the north end of the Camas Prairie Valley, just east of Montana Highway 382 and Macfarlane Ranch. It was designated as a National Natural Landmark in 1966 because it contains the great ripples, (often measuring 25 to 50 feet (7.6 to 15.2 m) high and 300 feet (91 m) long), that served as a strong supporting element for J Harlen Bretz's contention that Washington State's Channeled Scablands were formed by repeated cataclysmic floods over only about 2,000 years, rather than through the millions of years of erosion that had been previously assumed.[2] A similar dam break carved out a valley in Alberta where Drumheller Alberta Canada now sits which is why we find some cool dinosaur bones here. So when you look at North America's length a quick calculation is that in 10,000 years the icepacks retreated 2500km or about 2.5m per year. An event called the The Little Ice Age is a period between about 1300 and 1870 during which Europe and North America were subjected to much colder winters than during the 20th century. It is cool to read up on as it has a bit of evidence as to the impact of volanic eruptions impacting greenhouse gas emissions and solar forcing through what is known as Milankovitch_cycles. https://en.wikipedia.org/wiki/Milankovitch_cycles
The Earth's carbon equilibrium most certainly could be 2000 ppm CO2 as it was pre-Azolla Event and with a return to "greenhouse Earth" in which case the question is how fast would we be speeding up this ramp up? Are we going to offset a Milankovitch cycle where we should have had an ice age but instead will maintain temperatures? Perhaps we would have seen an increase in carbon uptake over 10,000 years through increased plant in-take that will not occur in 1000 years. Perhaps in 10,000 years we would have seen a massive increase in microalgae growth in the oceans and with it a massive increase in sea life that would not occur in 1000 years. Over 10,000 years would we even care if cities like are impacted by an increased sea level (plenty of time to move) where as in 100 years would this displace populations with geopolitical crisis? Eventually the glaciers would have disappeared, do we care if we lose that security in water supply over 200 years vs. 10,000 years? Is the heated Earth going to ensure more rainfall that we simply do not need glaciers for secure fresh water? I personally would like future generations to have 10,000 years to answer that question as opposed to say 200 years.
Clearly these are important questions but we do not need the exact answer to recognize that the simplest solution, if possible, is to ensure we can economically balance the carbon cycle as we see fit. Why not balance the carbon cycle if we can do so with a positive rate of return and in the interest of generating renewable energy? Humanity has developed during the ice ages with lower temperatures – why not purposely in a way terraform the world to keep it there?
The world derives many benefits from the burning of fossil fuels given they currently supply over 85 percent of the worlds energy needs (3). The need thus exists for an energy production strategy that balances the carbon cycle while fulfilling the global need for energy. Preferably such a strategy could continue to recycle CO2 in the future making it not only a strategy for balancing carbon but also a renewable energy strategy.
CleanCarbon Energy has been formed with a mandate to not only provide strategies to balance the carbon cycle, provide renewable energy but to do so in a manner that supplies the existing world infrastructure by providing carbon balanced traditional petrochemical products. It is our hope that in the end we can give all the tools to balance the carbon cycle with allowing all to use traditional convenient petroleum products.
Prentice, I.C. (2001). "The carbon cycle and atmospheric carbon dioxide". Climate change 2001: the scientific basis: contribution of Working Group I to the Third Assessment Report of the Intergovernmental Panel on Climate Change / Houghton, J.T. [edit.] Retrieved 31 May 2012
Peters G., Andrew R., Boden T., Canadell J., Ciais P. Quere C., Marland G., Raupach M. Wilson C., "The Challenge to Keep Global Warming below 2C", Nature Climate Change Vol 3 January 2013
Herzog, H., E. Drake and E.Adams "CO2 Capture, Reuse and Storage Technologies for Mitigating Global Climate Change", Final Report, US Department of Energy, Order No., DE-AF22-96PC-01257, January 1997
Brinkhuis H, Schouten S, Collinson ME, Sluijs A, Sinninghe Damsté JS, Dickens GR, Huber M, Cronin TM, Onodera J, Takahashi K, Bujak JP, Stein R, van der Burgh J, Eldrett JS, Harding IC, Lotter AF, Sangiorgi F, van Konijnenburg-van Cittert H, de Leeuw JW, Matthiessen J, Backman J, Moran K (2006). "Episodic fresh surface waters in the Eocene Arctic Ocean". Nature 441 (7093): 606–609. doi:1038/nature04692. PMID16752440. Brinkhuis H, Schouten S, Collinson ME, Sluijs A, Sinninghe Damsté JS, Dickens GR, Huber M, Cronin TM, Onodera J, Takahashi K, Bujak JP, Stein R, van der Burgh J, Eldrett JS, Harding IC, Lotter AF, Sangiorgi F, van Konijnenburg-van Cittert H, de Leeuw JW, Matthiessen J, Backman J, Moran K (2006). "Episodic fresh surface waters in the Eocene Arctic Ocean". Nature 441 (7093): 606–609. doi:10.1038/nature04692. PMID 16752440.
Pearson, P.N.; Palmer, M.R. (2000). "Atmospheric carbon dioxide concentrations over the past 60 million years" (PDF). Nature 406 (6797): 695–699. doi:1038/35021000. PMID10963587. Retrieved 2008-03-14.
We forgot the Quote of the Blog last time so here are two:
"Never underestimate the power of nerddom" – Nate Bowling (tweeted by Bill Gates)
"Can I cook or can't I?" Dr Carol Marcus in Star Trek II: The Wrath of Khan
Featured Picture – Team member Craig Pichach and his family on the Athabasca Glacier.