Project Update – Bring on the Benchscale Demonstrators
We are working hard at CleanCarbon Energy – here is an update. Currently our focus is on two demonstration projects:
BIOREACTOR ALPHA AND OMEGA –
Two bioreactors in development; one a brand new chemostat and the other is a refurbishment of an existing bioreactor.
What is a bioreactor? It's a special vessel that allows our bacteria to grow at a set temperature, pH and inlet nutrients and gas. If you grow too much of the organism it will end up killing itself off as there will not be enough nutrients for the high population which is why we eventually need to run this on turbidity control to produce the biomass. Obviously the higher we can get the density in this exponential growth phase the better.
The new chemostat will be used to grow the bacteria continuously for inoculation of our future large scale skid. Currently we are getting quotes for this unit. Concept is to run that reactor on turbidity control.
To fast track the effort currently we are looking at modifying an existing reactor (Alpha) for culture density optimization experiments.
Attached are some pictures; some good news is that we feel we can program the unit. Below is the existing reactor.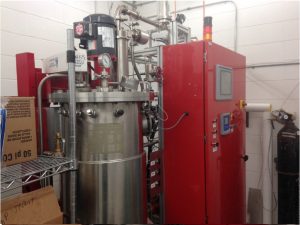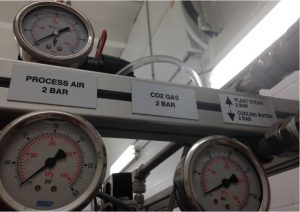 We need to modify the unit to accept four gases (O2, N2, H2S, CO2) – right now it accepts only two (air and CO2) – to allow for us to measure the gas flow off the exhaust and get the CO2/O2. You can also see it is missing an acid and base pump (though has a connection…). We would also need to add a harvest dump valve and a recycle for potential membrane testing. The reactor will be run oxygen limited to encourage elemental sulfur production for easy recycling which is critical on large scale applications (cheap fuel).
I don't suppose anyone has any cheap peristaltic pumps or exhaust gas analyzers they would like to donate to the cause? Any bioreactor or gas chromatography experts in Calgary that want to take this on?
SURFACE BENCHSCALE GASIFIER ("SUPER-GASIFIER") –
Ironically our gasifier design is easier to implement down hole where you can use rock as your refractory, your tubing strings as your exchanger, and hydrostatic pressure to get to the high pressures and temperatures we want for wet gasification of biomass but we are working on the assumption that we should do a surface batch unit prior to drilling a $3MM well. We have two designs – an indirectly heated unit to demonstrate the gasification of wet biomass and an oxy-fired unit. Oxy-firing hydrogen in a pressure vessel requires us to ensure we have proper instrumentation regarding temperature, pressure control, etc for obvious reasons but doing so would actually allow us to design our downhole nozzle for the large scale deployment. What's cool about the bench scale gasifier – you will put in wet biomass (such as grass) – and after the batch reaction you will get hydrogen out. While not energy positive in this batch configuration it might be useful as a technology demonstrator or a cheap hydrogen generator.
Talking with some firms and getting quotes on this demonstration unit built – no pictures yet! Unfortunately the vessel would require flange ratings above ANSI #2500 so we cannot use simple line pipe (unless we refractory line, something we are exploring).
Respectfully yours,
Team CleanCarbon