Biomass without Sunlight
Last blog post we detailed that if we need to sequester and convert large amounts of carbon dioxide using autotrophs we will need large bio-reactor volumes.. reactor volumes best available underground. Can one generate biomass without sunlight? In a word – yes.
It's happening right now. Kilometers beneath the ocean. CO₂, waste gases and oxygen are being converted into biomass by bacteria in hydrothermal vents and within giant tube worms (4). At the same time waste acids are is being converted back into sulfide by thermochemical and organic reactions deep in the Earth's crust and ithin depleted oil and gas reservoirs. The CleanCarbon strategy is based upon these natural processes which use synergies between the carbon and sulfur cycles to balance reactions and energy requirements.
Autotrophs ("self-feeding", from the Greek autos "self" and trophe "nourishing") can directly fixate CO2 as biomass.
Most autotrophs we are familiar with such as plants and trees are powered by sunlight through photosynthesis. Simplifying the reaction a mol of CO2 with a mol of H2O in the presence of photon energy (light) will result in biomass and oxygen;  CO2 + H2O + photons → [CH2O] + O2. Other organisms such as fish for instance are heterotrophs; they don't need light as they feed on the autographs; these organisms don't really help sequester CO2 as they usually produce it (i.e. when you breath out you are releasing CO2; you are a heterotroph).
Now beneath the ocean there is no light. Yet you will find tube worms growing near hydrothermal vents. Hydrothermal vents usually form along mid-ocean ridges where two tectonic plates are branching out and new crust is being formed. Hot water (60°C up to over 450°C) at high pressure is vented into the ocean with many minerals including hydrogen sulfide and sulfides of copper, iron and zinc. A geothermal vent with tube worms is shown here: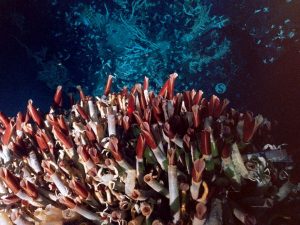 The University of Breman MARUM has a beautiful youtube video of these hydrothermal vents at https://www.youtube.com/watch?v=rTR6gGDWcJk
At these vents you will find autotrophs fixating CO2. But how given at these depths these vents are found at there is no sunlight so no photosynthesis can occur?
The answer is chemosynthesis. Instead of sunlight – hydrogen sulfide is the primary energy source for hot vents and cold seeps.  The energy comes from the oxidization of dissolved chemicals which escape from the Earth's crust through hydrothermal vents. Oxidization is when a substance combines with oxygen to form another substance. In this case a mol of CO2 , a mol of oxygen and 4 mols of hydrogen sulfide react to form a mol of biomass, sulphur (or sulphates; will discuss in a future blog post) and water;  CO2+O2+4 H2S→ CH2O+4 S+3 H2O.
Now these tube worms are under a kilometer of water that you would think you require high pressure; hydrostatic pressure is over 10,000kPag.
However it turns out the tube worms are not the autotroph; they are symbiotic with bacteria and this bacteria will grow at 30 centigrade at not only high pressures but at atmospheric pressure.
So yes – you can generate biomass without sunlight using chemolithoautotrophs. Chemolithoautotrophic bacteria are microbes that utilize chemicals (chemo) from the bedrock (litho) as an energy source for making their own (auto) food (troph).
Our Carbon X Prize team aims to produce biomass from CO2 using chemolithoautotrophs.
Now not all chemolithoautotrophs are the same and in order for this to be a useful process we must use as low grade (cheap) an energy source as possible.
And that is for a future blog post!
Your quote of the blog:
"Success consists of going from failure to failure without loss of enthusiasm.
If you're going through hell, keep going.
You have enemies? Good. That means you've stood up for something, sometime in your life."
Winston Churchill